News
What's New, What's Happening ….
2023 Club Fact Sheet
Saltwater Foundation Grant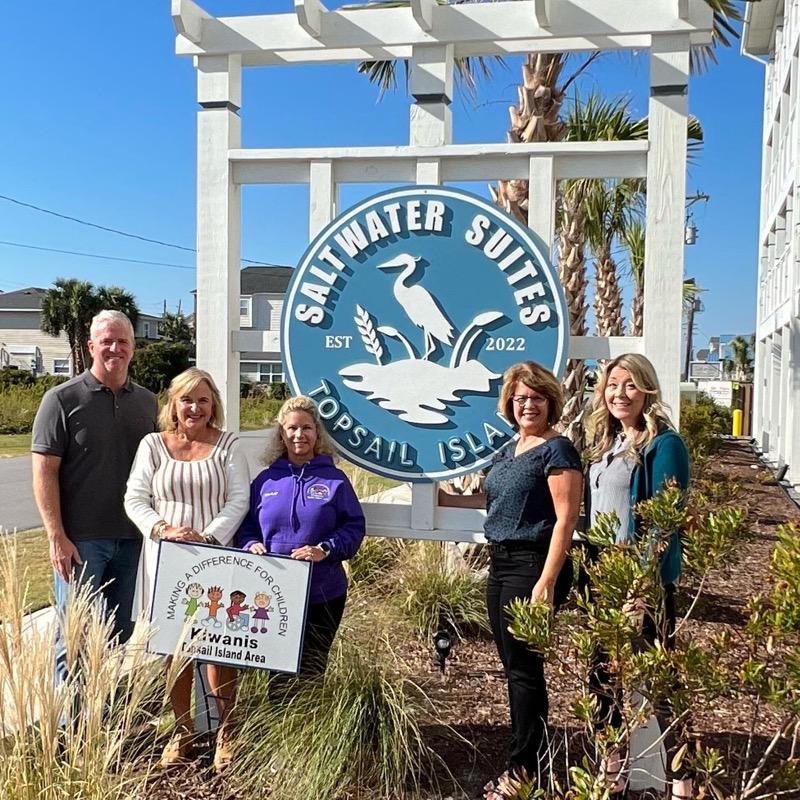 Our Kiwanis Club Officers were pleased to accept a grant from the Saltwater Foundation in the amount of $2,000 to help support our service leadership projects. Officers Nicki Swafford, president, (2nd on rt.) Cathi Litcher, secretary (2nd on lf.), and Kim Patrizi, treasurer (3rd on lf.) were on hand at the Saltwater Suite recently to accept the grant.
The Saltwater Foundation a new charitable fund to support local charities on Topsail Island and in the greater Wilmington area was announced back in July, 2022 by Richard Stroupe, owner and managing director of Saltwater Suites (far lf.). Also, on hand for the grant presentation was Kristin Kelly Freeman of BlueStar Real Estate, the property manager of Saltwater Suites (far rt.).
AWT Pancake Fest
The Annual Kiwanis Pancake Breakfast was held Saturday and Sunday mornings, October 15-16 in association with 'Autumn with Topsail.' The weather was perfect both days which ensured a record turnout of hungry vendors, and visitors. Notably this year, the Surf City Middle School Builders Club, the Dixon Middle School Builders Club, the Dixon High Key Club, and our own Atkion Club members were an integral part of our behind the scenes activities to feed over 750 breakfasts to those hungry folks. As usual club members manned the ticket desk, mixed the batter, flipped the pancakes and generally did what needed to be done to make everything come together. The whole shebang would not have happened and run so smoothly had it not been for the lead taken by Lisa Brown with support from Rick Grant. They oversaw everything from getting the grills retrieved, tanks filled, ingredients purchased, etc. etc. to being there both mornings before the rooster crowed. Final financials are not available yet, but preliminary indications are a new record in sales near $6,000 dollars of which 100% that will go a long way toward 'Kids Need Kiwanis' and the support we provide to kids and their teachers in our local communities.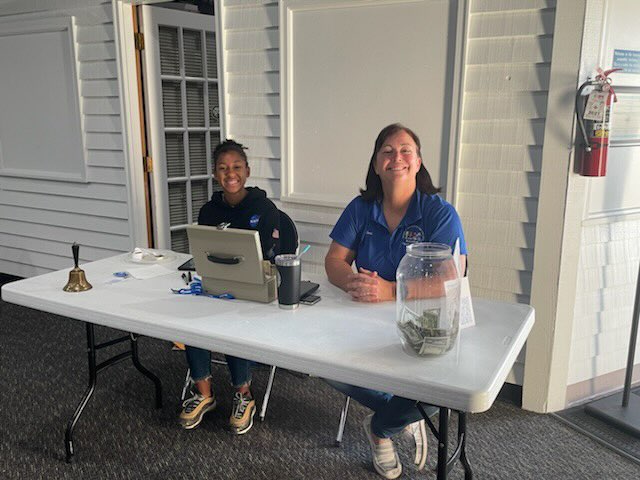 Annual Meeting 2022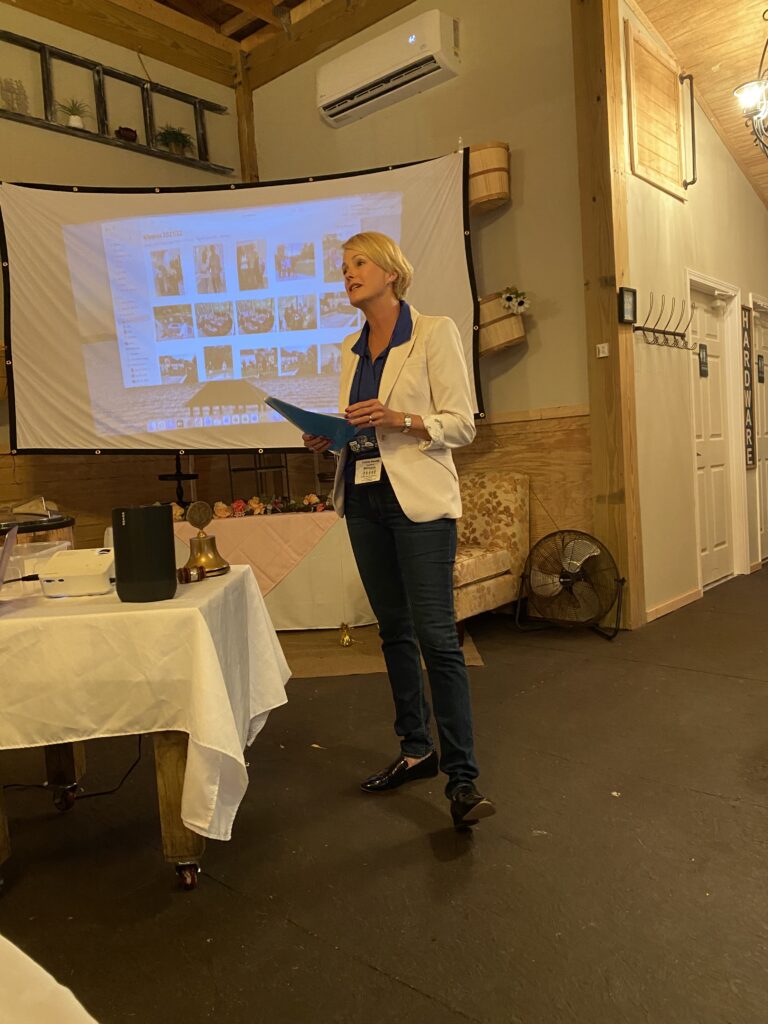 President Carrie Hewitt welcome over 50 guests to the "Member Recognition and Officer Installment Dinner" on Tuesday, September 27, 2022, at Surf City Farm. She introduced Mary Winfree, Carolinas Kiwanis District Governor and Mike Hadley, Lt. Governor. After the pledge of allegiance, the group enjoyed fellowship around a barbeque-themed meal with all the trimmings.
Governor Winfree's Message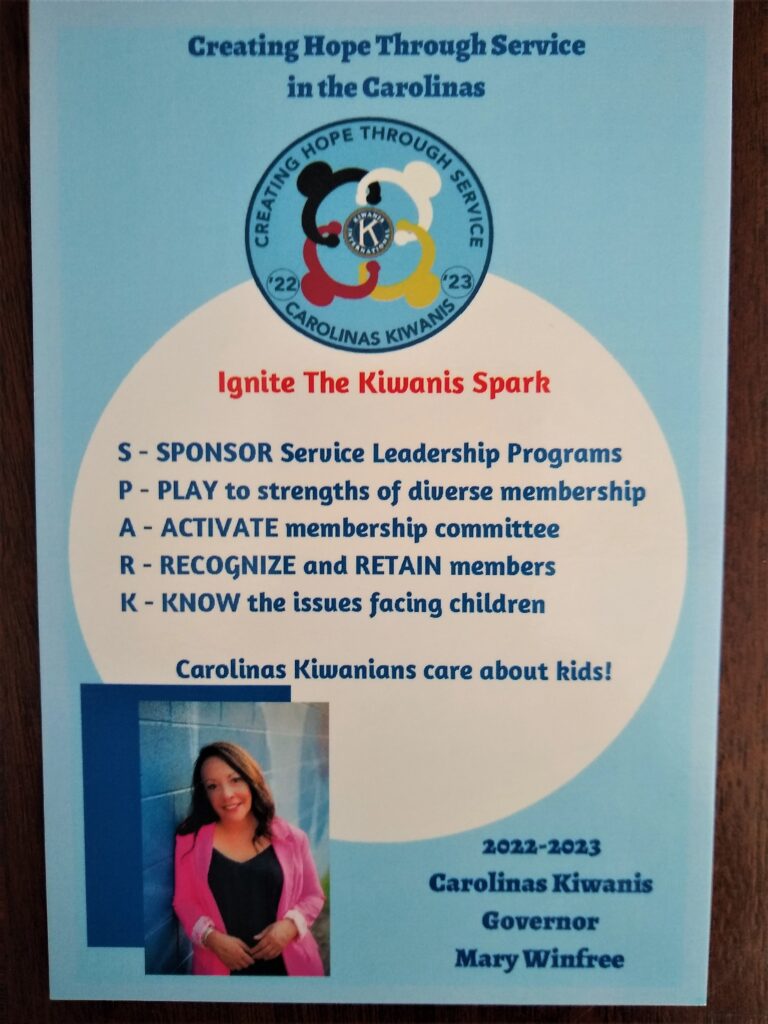 Governor Winfree thanked President Hewitt for inviting her and Mike Hadley to participate in our recognition and installation dinner. She noted that our club exemplified a highly-engaged club that was "Making a Difference for Children." She then talked about the theme for her governorship, "Creating Hope Through Service in the Carolinas." Based on the idea of 'SPARK' she hopes to 'Sponsor' – service leadership programs; 'Play' – to strengths of diverse membership; 'Activate' – membership committee; 'Recognize' – and retain members; and 'Know' – issues facing children. She plans to carry this message to as many Carolinas Kiwanis Clubs as possible in the next year!
Distinguished Member Award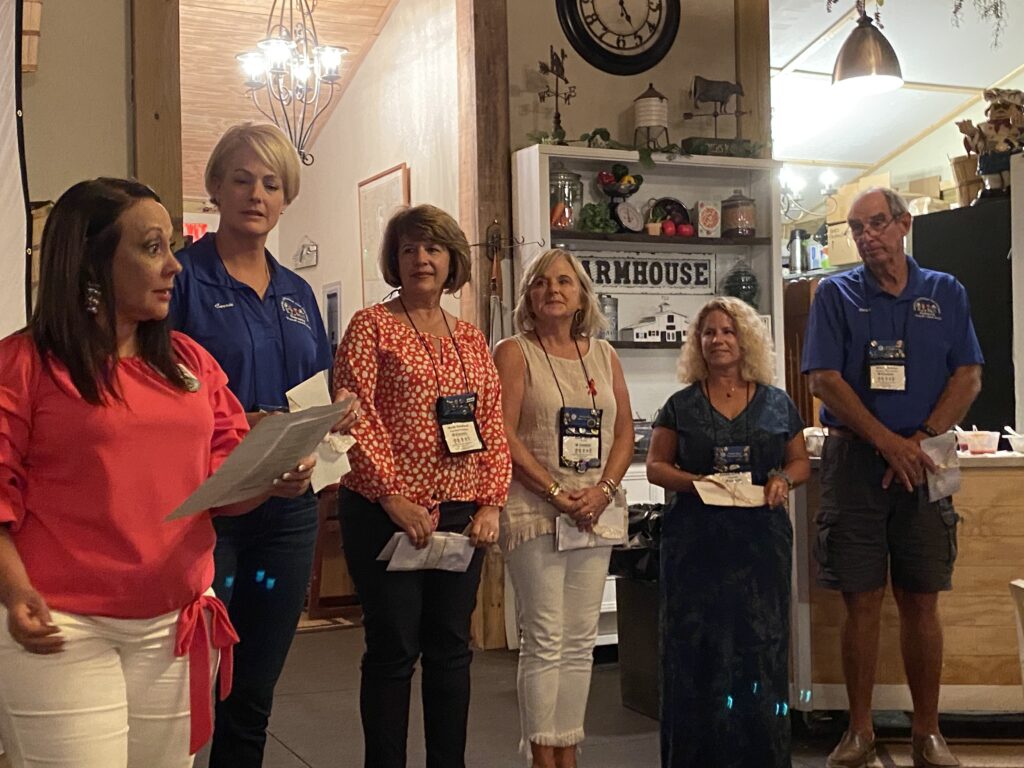 Governor Winfree (far left) announced that five club members were nominated to the Carolinas District for the Distinguished Member Award recognition including Carrie Hewitt, Nicki Swafford, Cathi Litcher, Kimberly Patrizi, and Mike Benson (lf-rt).
Officers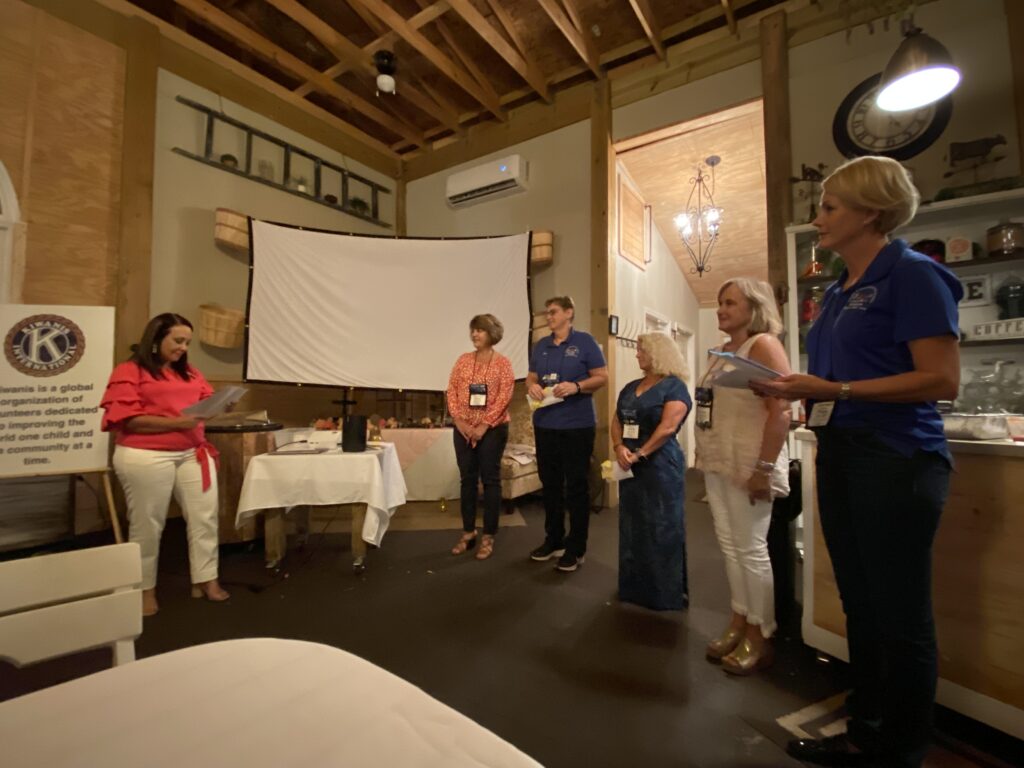 Governor Winfree, as part of her initiation honors on behalf of the Carolinas District, read the duties of each club office as the officer stepped forward to be recognized and to pledge to uphold the duties of their elected office. Club officers for 2022-2023 initiated are Nicki Swafford, president, Eva Kreiger, president-designate, Kimberly Patrizi, treasurer, Cathi Litcher, secretary, and Carrie Hewitt, past-president. A vice-president has yet to be identified.
Board of Directors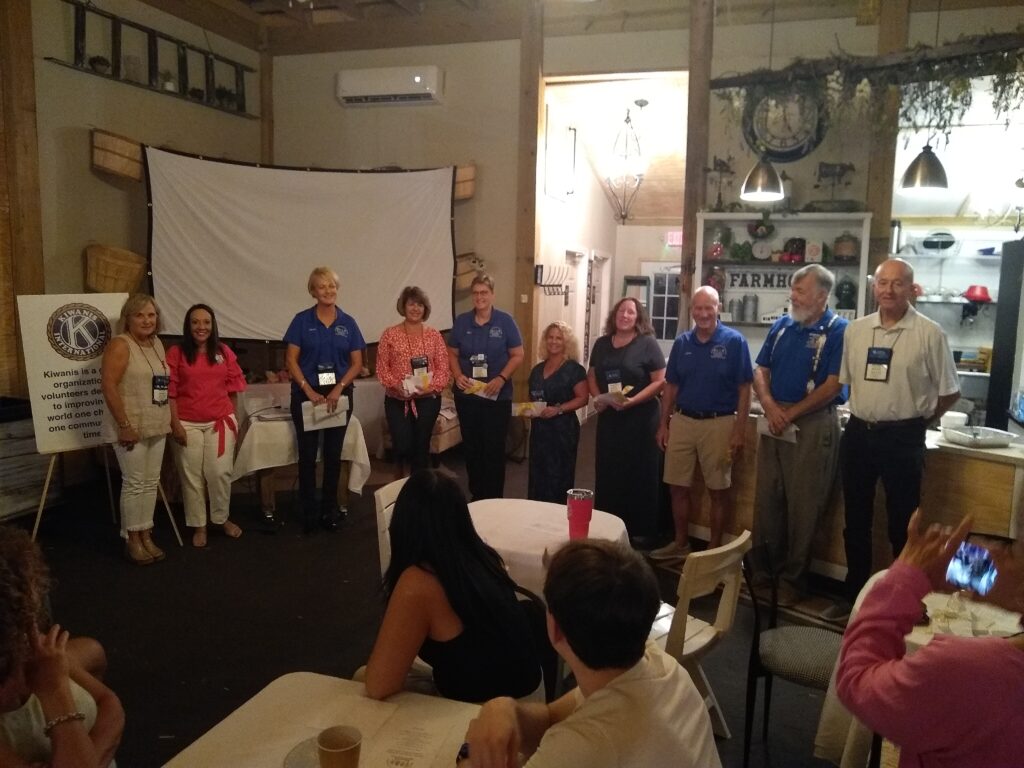 Governor Winfree then installed the Board of Directors that includes the club officers plus the following club members" Bridget Stump, Larry Earle, Tim Horner and John Burke (lf-rt) plus Diane Cavanagh and Tom Staker (not pictured).
Key Club Officer Installation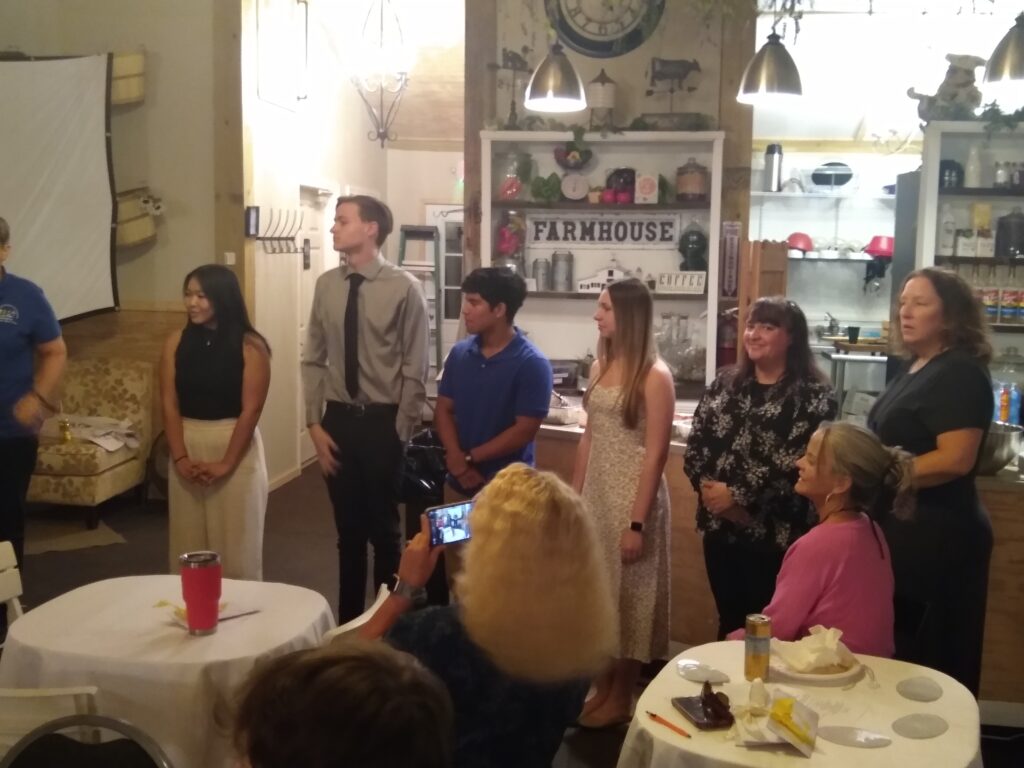 Dixon High Key Club Officers (see below)
FACULTY ADVISOR IS SHANNON BOONE
KIWANIS ADVISOR IS EVA KRIEGER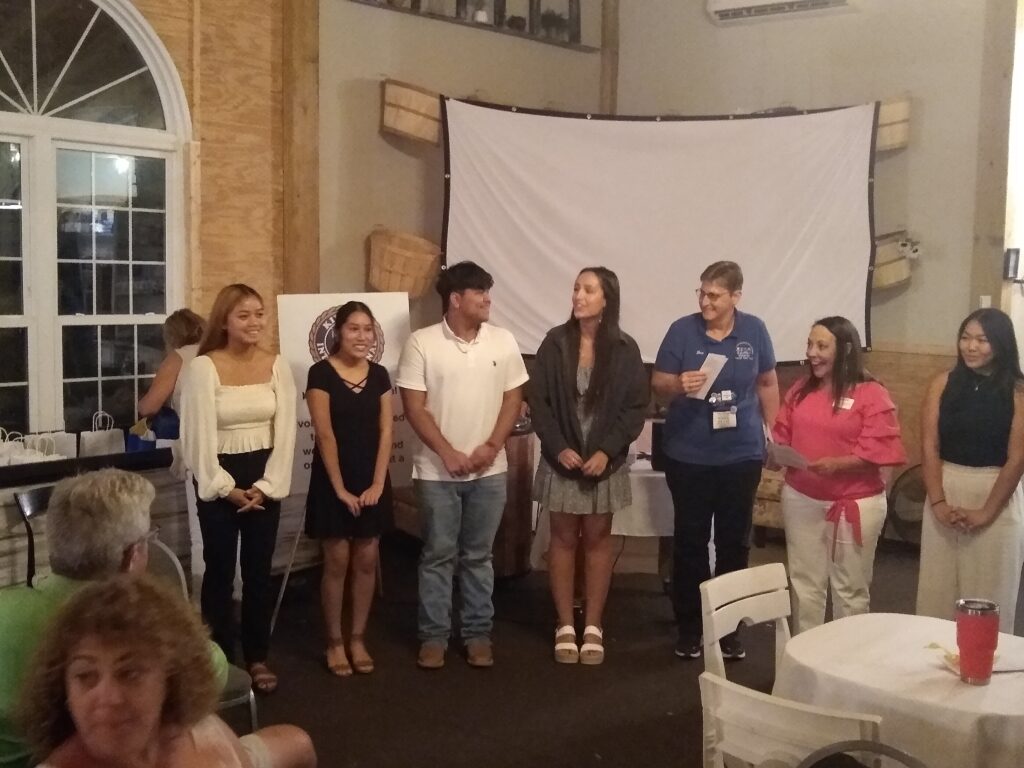 Topsail High Key Club Officers (see below)
FACULTY ADVISOR IS SHERRY SLIWA
KIWANIS ADVISOR IS BRIDGET STUMP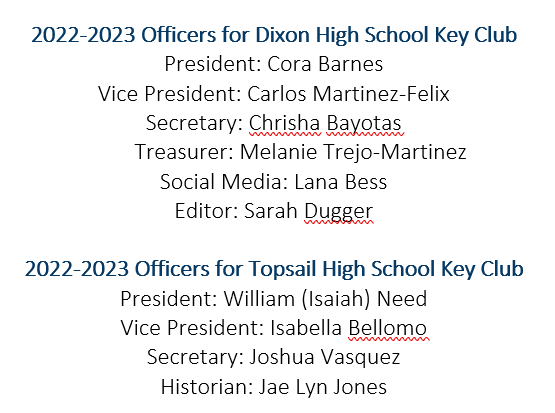 President Swafford's Closing Remarks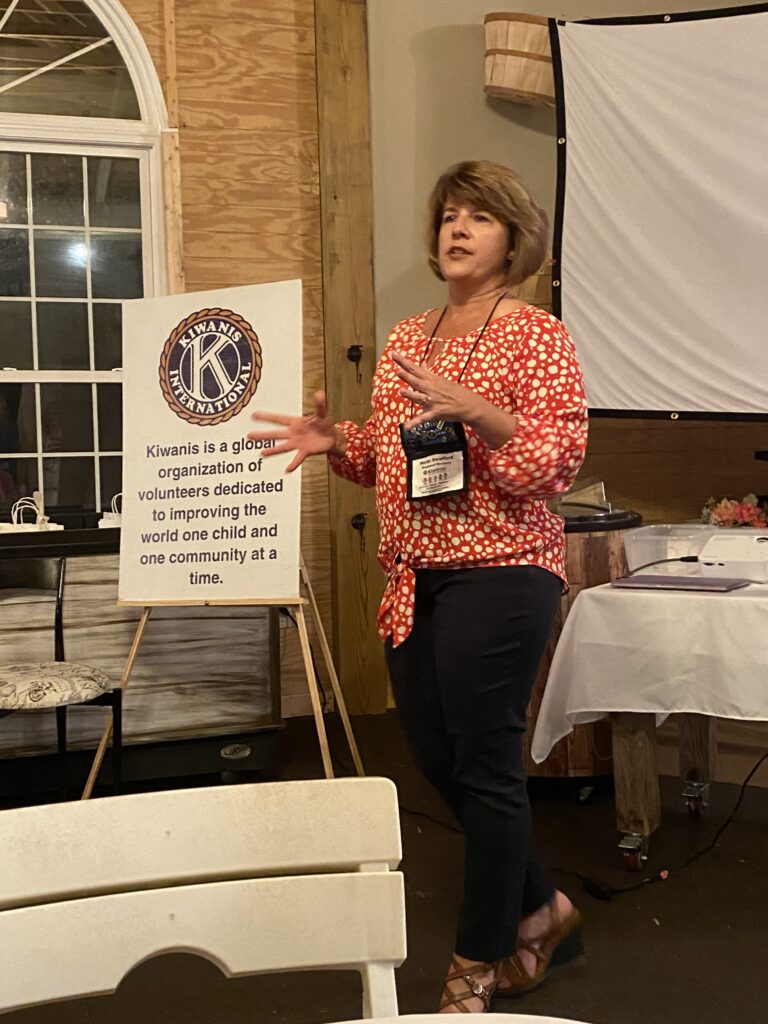 Nicki Swafford closed out the meeting by thanking Governor Winfree and Lt. Governor Mike Hadley for attending as well as all the Key Club members, advisors, and their families plus all the club members and spouses. She thanked all the club members who have volunteered their time and effort over the past year to the Kiwanis motto of "Making a Difference for Children." President Swafford noted that she wants to make her term as president focused on mental health of our students, food scarcity in our community and literacy. This program will be introduced at all school levels from 'K-kids' in elementary schools (a new program for our club), to the Builders Clubs as well as to the Key Clubs we serve.
Photos by Bridget Stump and Mike Benson
---
Kiwanis Budget 2022-2023
Kimberly Patrizi, Club Treasurer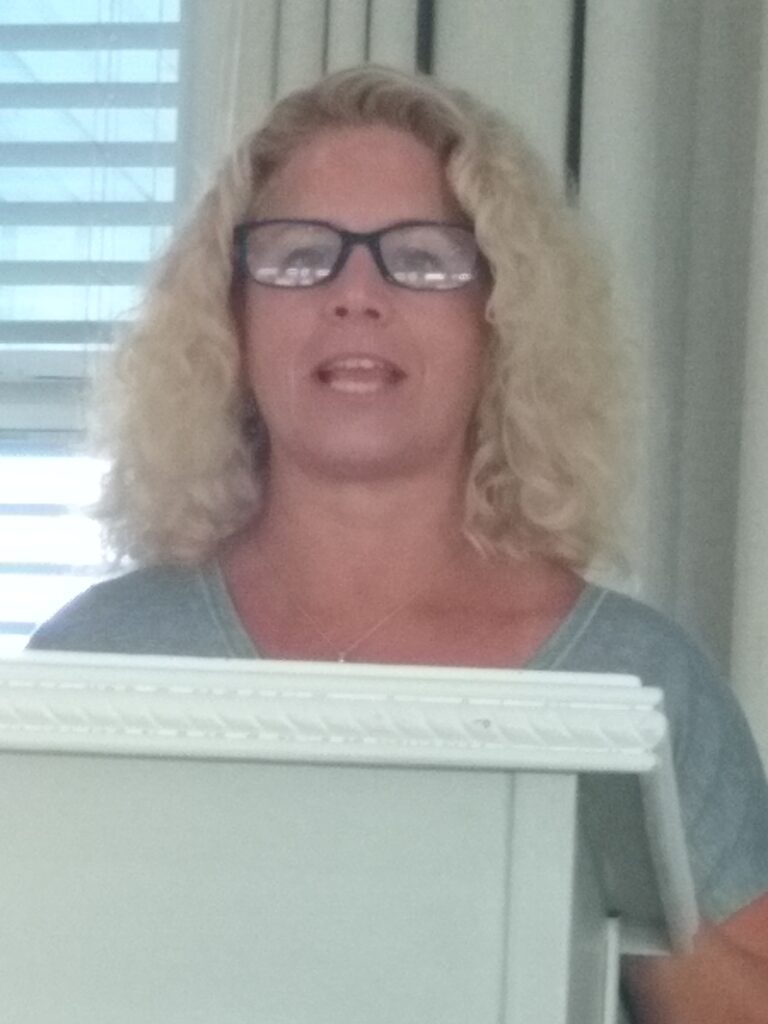 Kimberly presented the proposed budget for 2022-2023 at the regular Tuesday morning meeting on September 20th. She was pleased to announce that the Club will contribute over $20,000 dollars to support kids in our community. Kimberly explained a few changes in this year's budget including a slight increase in dues both for Kiwanis International and our Club. She also noted that income from our 'Member only events' would be moved from the Service line item to Administration to better reflect the needs of the Club. She also addressed the issue of fundraisers and the board decision to have less small revenue fundraisers that have proven difficult to find a member will to coordinate them, in favor or adding larger-revenue generating fundraiser – possibly a 'Horse Race Game Night.' After several questions were answered by Kimberly , President Carrie Hewitt then asked for a motion to approve the budget. The motion was made seconded and unanimously approved by the membership in attendance.
---
Kiwanis Third Quarter Financial Summaries
Kimberly Patrizi, Club Treasurer and Rodney Dillman, Foundation President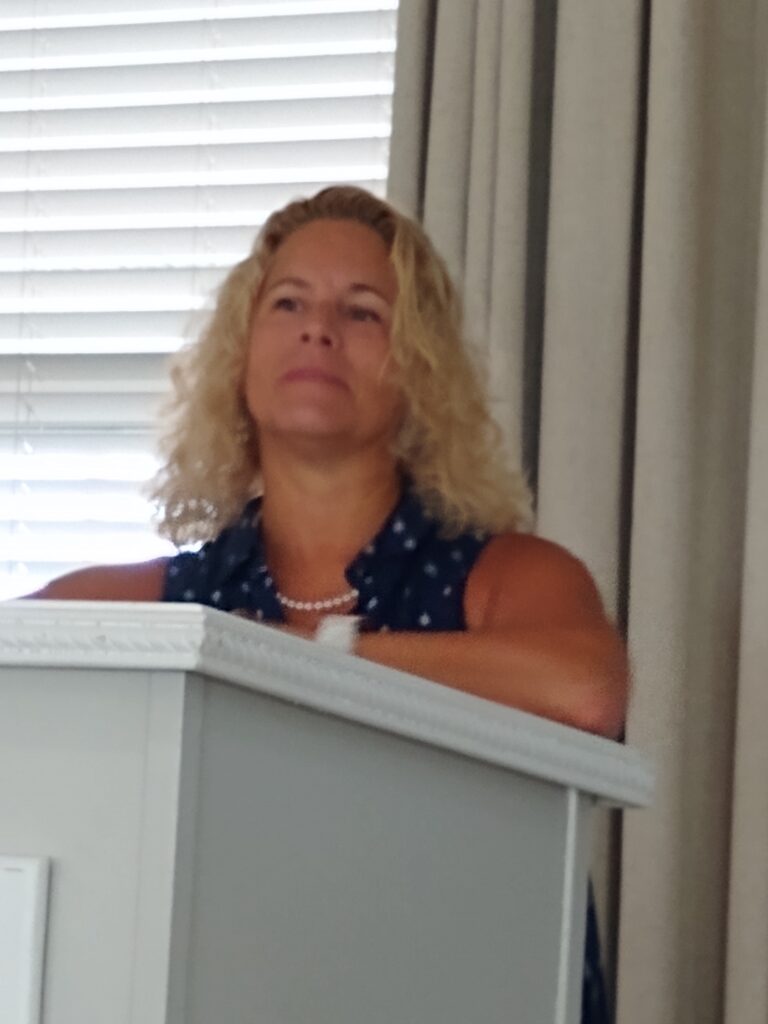 Kimberly Patrizi, Club Treasurer, presented the 3rd quarter financial summary (thru 3-31-22) at the Tuesday, July 19, 2022, weekly meeting.
-We are $2,500 over budget in revenues but only $800 over budget in expenses, so a $1,700 surplus this quarter.
-In addition, we received $2,000 in Community Outreach donations that were unbudgeted.
-Plus a $1,500 grant was received to award as trade school scholarships.
-Autumn-with-Topsail, Skip-a-Meal, and the Spaghetti Dinner were the biggest fundraisers so far this year.
-For the fiscal year budget we are approximately $1,300 to the positive.
-Kimberly reported that we added 13 new members this year to date with our annual goal of 14. With a total of 68 members, our club is ranked 5th out of 153 in the Carolinas District for net growth.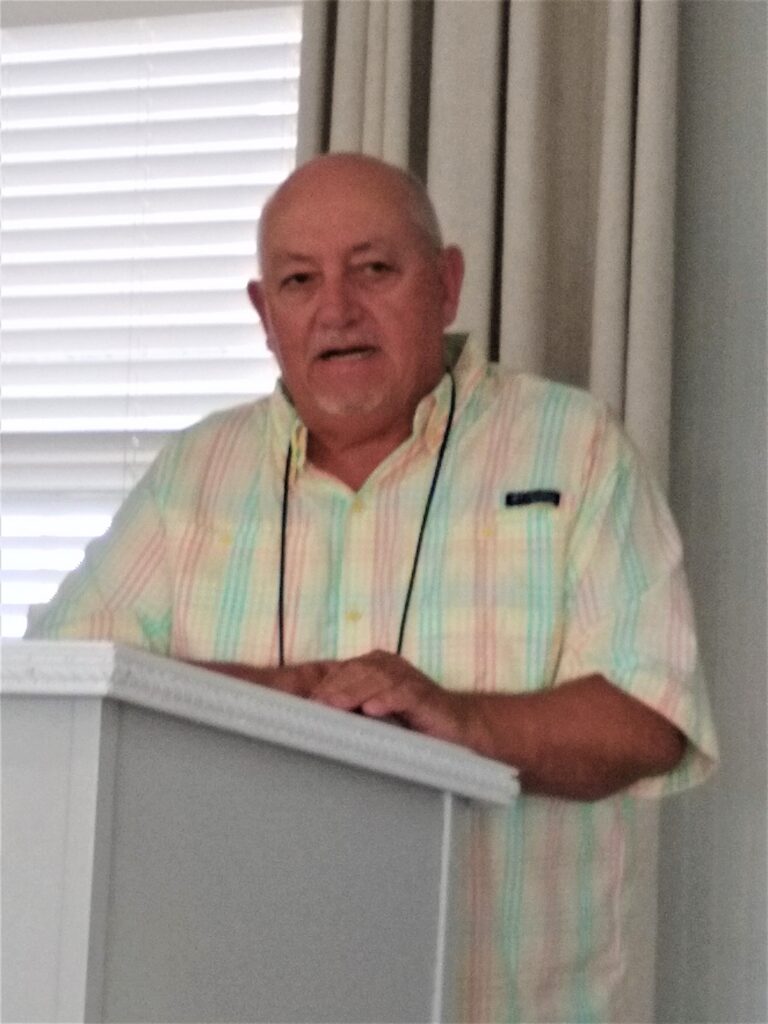 Rodney Dillman, Foundation President, reported on the current status of the Club Foundation this morning.
Currently:
–Total Assets $439,598
–With the Vanguard Brokerage Account at $398,884
–With Coastal Bank $ 40,713
Total Cash: $150,971
The Foundation continues to meets its mandate of providing funds for scholarships and school grants.
---
2022 Kiwanis Convention Summaries
Nicki Swafford, club president-designate, Kim Patrizi, club treasurer and Cathi Litcher, club secretary all attended the Kiwanis International Convention in Indianapolis earlier in June and reported on the sessions she attended to the Club at our June 21 morning meeting. Nicki presented Cathi's sessions information in her absence.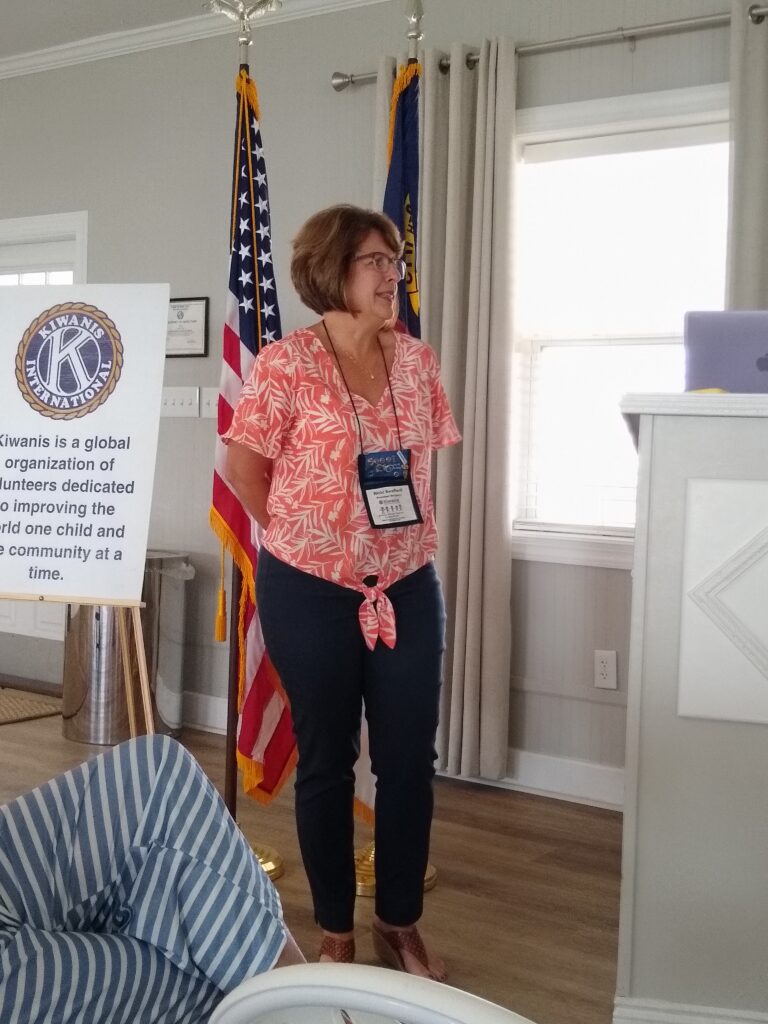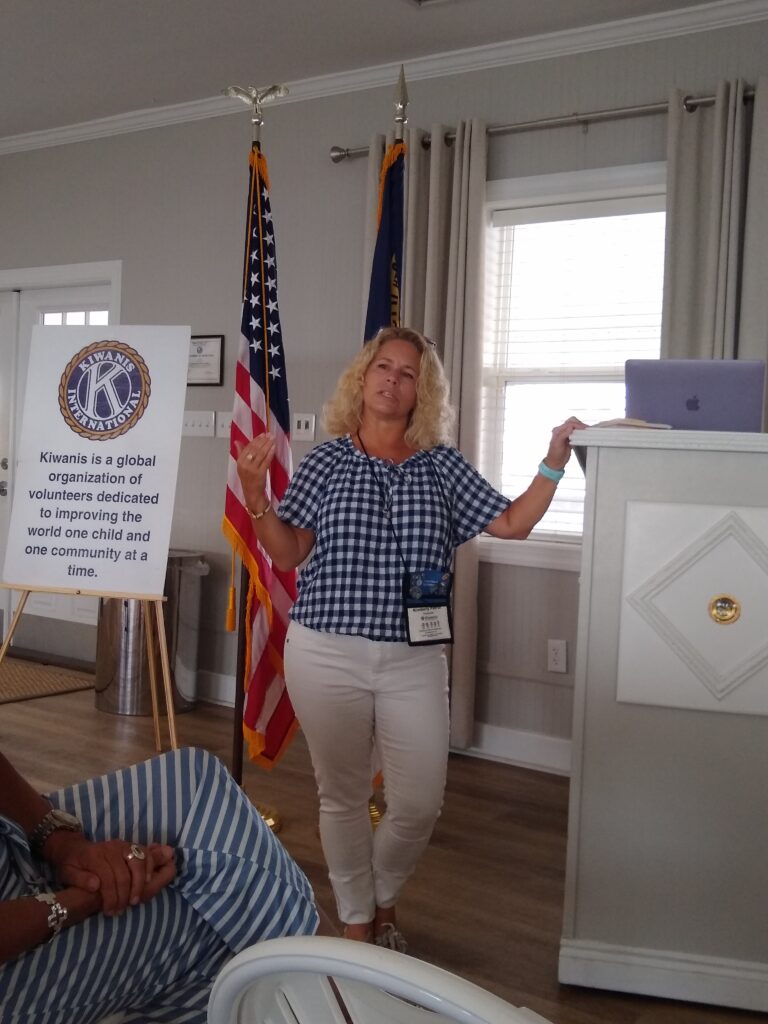 View the summary slides from their presentation
End of Report
End of Report
End of Report
---
Kiwanis Carolinas Division 18 Meeting
Our Club hosted this inter-club meeting on April 14th, at the Holly Ridge Community Center. The other Clubs with members attending were Hampstead, Jacksonville, Onslow County, and Crystal Coast. Steve Stevens, Lt. Governor of Carolinas Division 18 welcomed each of the club members and gave several division announcements. Lt. Governor Stevens then introduced Joe Crostic, Governor of the Carolinas District. Governor Crostic gave a state of the district message which is in good state and encouraged members to attend the Kiwanis Excellence Education Day in Florence, SC on Saturday, April 30 .
Governor Crostic presented several awards including the Ruby K Pin Award that recognized members that sponsor 5 to 100 new club members. Joe then presented two Ruby K Pin Awards, one to Nicki Swafford and the second to Kimberly Patrizi of our Club . The I Love Kiwanis Award for exceptionally engaged and active local members was presented to Paula Fox and Bill Horstman of the Kiwanis Club of Topsail Island Area. Governor Crostic also presented the Kiwanis is my Superpower Award to Lt. Governor Steve Stevens who who is a role model for the tenants of Kiwanis.
A workshop followed led by Eva Kreiger, vice-president of our Club in which the attendees split up into small work groups to discuss three topics previously identified by attendee vote on a list of possible topics during the luncheon phase of the meeting. The three groups of Kiwanians each spent a 15-minute break out session under i) Club membership/retention facilitated by Nicki Swafford, club designated president, ii) Fundraising led by Carrie Hewitt, club president, and iii) Service Signature Project led by Kimberly Patrizi, club treasurer. The groups came back together with their fellow club members where Eva asked each facilitator to give the main points for their topic. Finally, Eva asked each club what was the 'one thing' they took away from the breakout sessions.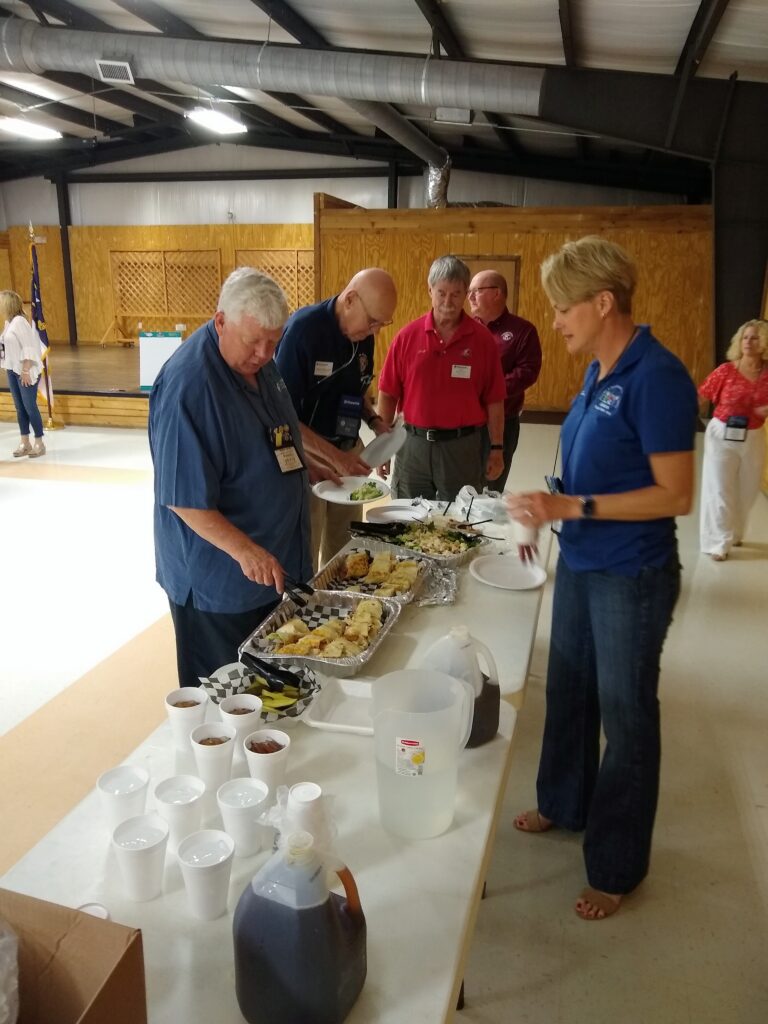 New Member Induction – March 29th
The Club welcomed six new members at its Tuesday morning meeting. The induction ceremony was led by Nicki Swafford, vice-president, Eva Krieger, and Cathi Litcher club secretary. New members inducted were Michele Bennett sponsored by Mollie Grant, Paula Fox sponsored by Tom Staker, Rick Grant sponsored by Mike Benson, Dawn Ellis sponsored by Cathi Litcher, Lisa Brown sponsored by Mike Benson, and William Snyder sponsored by Kimberly Patrizi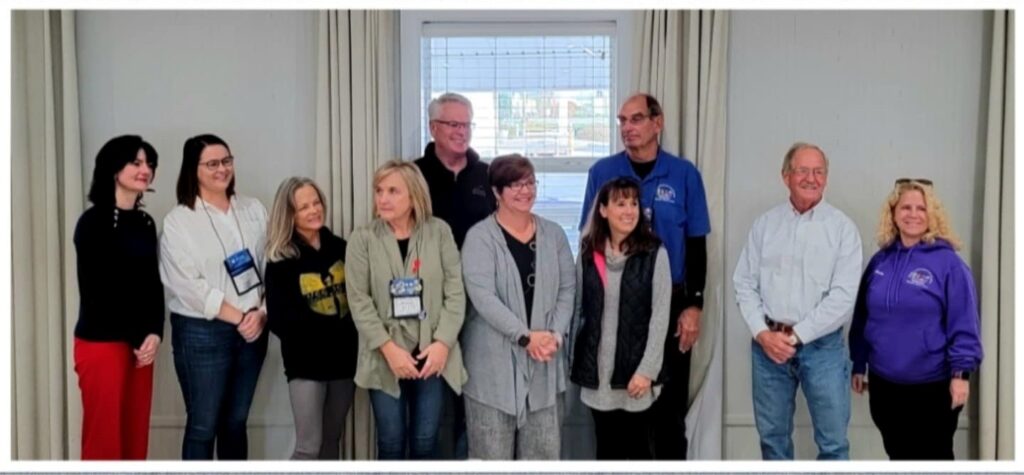 ---
Out of Darkness Walk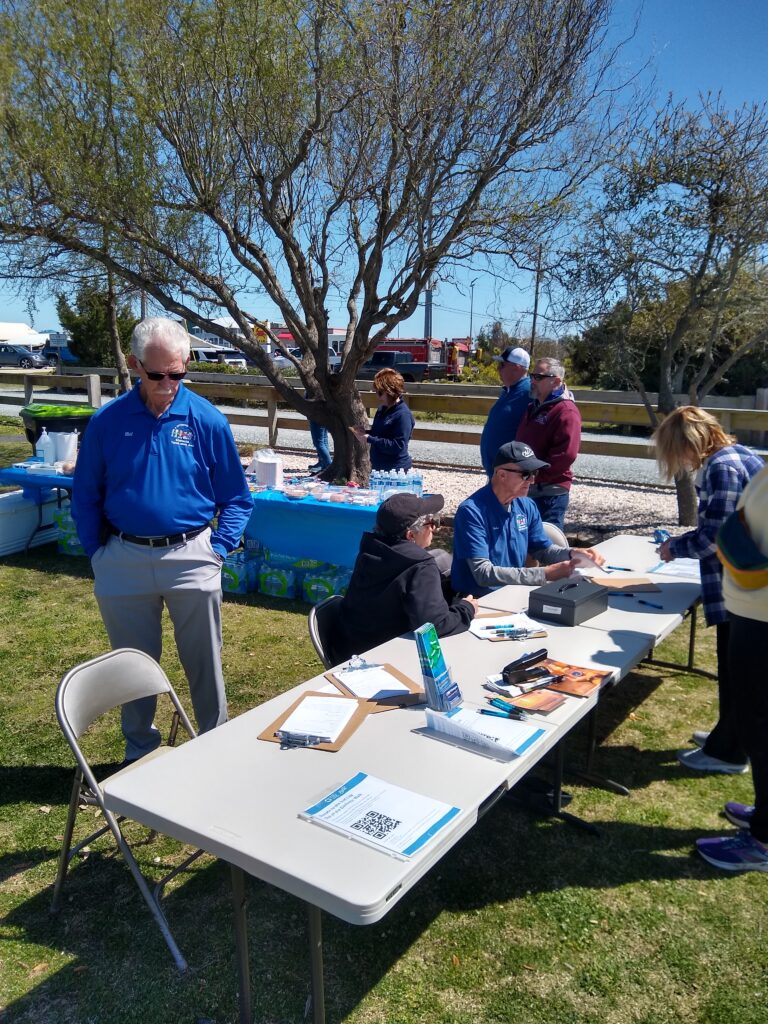 The Kiwanis Club of Topsail Island Area provided on-site registration service for this amazing event that promotes awareness about suicide prevention. In addition, several Kiwanis members who raised funds to sponsor their walk participated in the event as well. There were over 200 walkers in all who walked across the Surf City Bridge and back to Soundside Park to promote the Out of Darkness Walk that supports the American Foundation for Suicide Prevention.
---
Spaghetti Dinner
The Club hosted a spaghetti dinner on Sunday, March 20, 2022 at the Southern Roots Grille in Holly Springs to raise funds for Share-the-Table. Kiwanians provided spaghetti sauces, pasta and desserts plus all the trimmings needed to make the dining experience memorable for the over 80 guests that bought tickets to support the event. A dessert raffle was held immediately following dinner to complete the meal. The event was organized by Kiwanian Bridget Stump with volunteers setting up, cooking, and serving. Key Club members from Dixon High School were also on hand to help with setting up and serving tea or water to each diner. The event would not have been possible without the generous donation of the folks at Southern Roots Grille who contributed their restaurant and kitchen facilities to the Club. Thank you, Southern Roots Grille!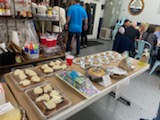 ---
Share-The-Table Donation Event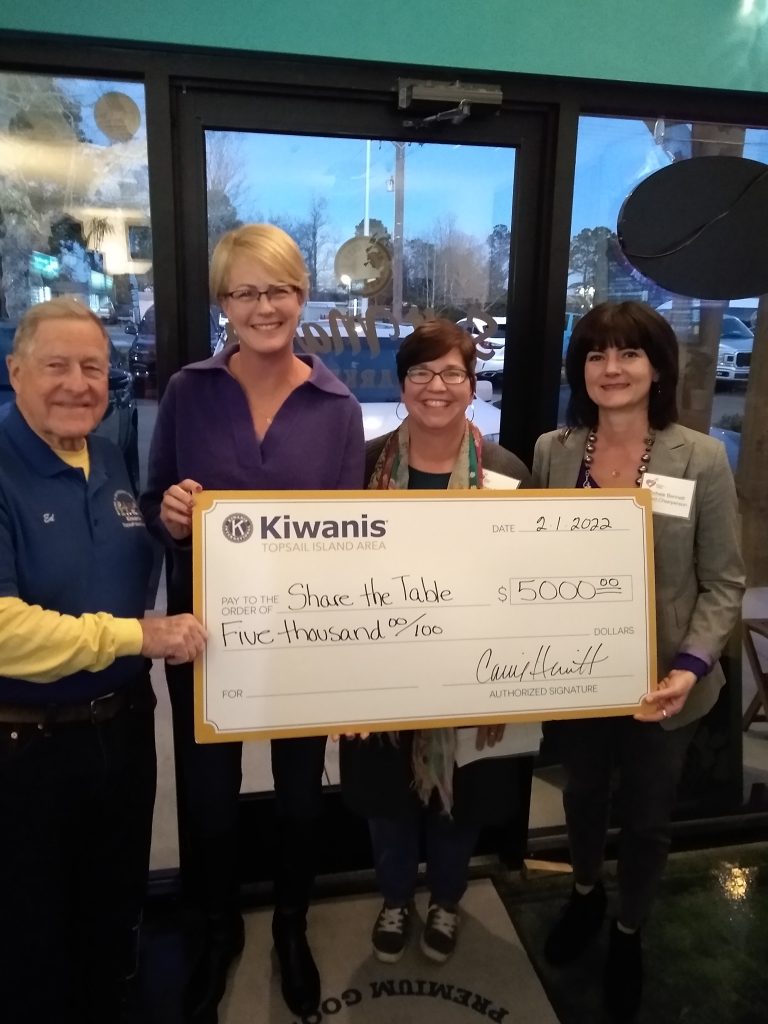 The Kiwanis Club of Topsail Island Area was pleased to present a $5,000 dollar donation to Share-The-Table at our Club meeting Tuesday night (2/1/22) held at the Salt Marsh Market in Surf City. Club members raised the funds through three member-hosted dinners last fall for club members only that were organized by Ed Broadhurst, Club 'Skip-a-Meal' chairman (pictured left).
Carrie Hewitt, Club President (2nd from left) and Ed made the presentation to Dawn Ellis, Founder and Executive Director (2nd from rt) and Michele Bennett, Chairperson, Share-the-Table (rt)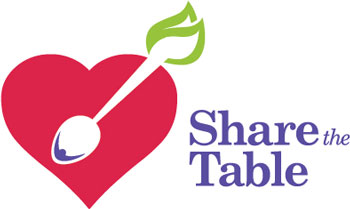 Their mission "…. is to respond to God's call to nourish our community by providing food where there is hunger, fellowship where there is loneliness, and education to end the cycle of food insecurity."
As their website states "Share the Table, Inc. is a faith-based nonprofit 501(c)(3) organization supported by seven charter churches, community churches, civic organizations, and local businesses in Pender and Onslow Counties in North Carolina. Through our free community meals, food pantry, and school backpack program, we feed over 1,000 Pender and Onslow County residents per week."
Visit them on them on the web to donate or volunteer – CLICK HERE
---
Financial Report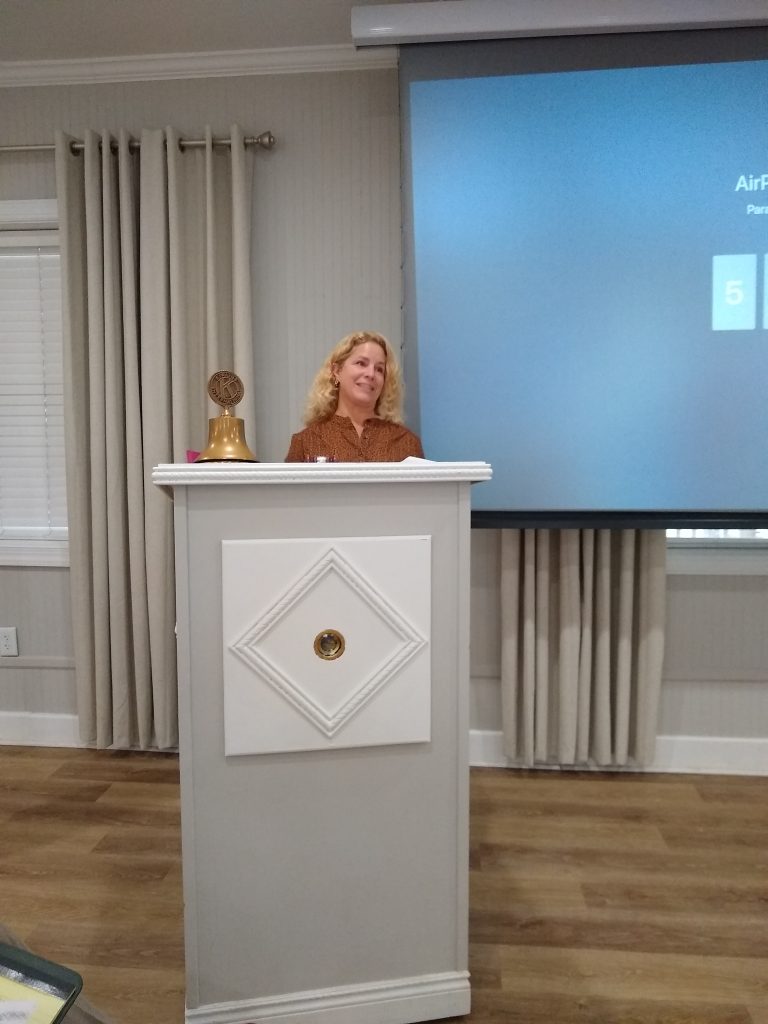 Kimberly Patrizi, Club Treasurer gave an update on Club financials as of the first quarter of 2021/2022 at the January 25, 2022 meeting.
Key points of her report
• Nearly $6,200 over budget in Revenues
• Nearly $1,700 under budget in Expenses
• Net positive of nearly $7,900
• Added Aktion Club to Service budget as received $1,500 grant & donations to fund programs
---
Kiwanis Cottage Project
---
2021
---
Carolinas District of Kiwanis International – Education and Leadership Conference — Greenville, SC – August 28
Summary by Tim Horner, former District Trustee
The Annual District Conference met to certify the election of District Officers, review the past year with an eye to the coming year, especially focusing on MEMBERSHIP! Gaining new members and retaining current Kiwanians. To this end an additional focus was directed to the International direction for "Diversity, Equity and Inclusion".
Topsail Kiwanis was recognized in a most special way this year – WE (all of you) are one of only TWO Kiwanis Clubs in NORTH AMERICA to Charter a new AKTION CLUB this year!!!! Many thanks and CONGRATULATIONS to Club Advisor and Founder Diane Cavanaugh.
Topsail Kiwanis was recognized in a most special way this year – WE (all of you) are one of only TWO Kiwanis Clubs in NORTH AMERICA to Charter a new AKTION CLUB this year!!!! Many thanks and CONGRATULATIONS to Club Advisor and Founder Diane Cavanaugh.
Our second recognition was for two of our FANTASTIC Leadership Team. There are many ways to lead; physical prowess, massive intellect, charisma, or even just prodding others to do a task until it gets done. In Kiwanis we lead by SERVICE, we lead by doing. Our heart tells us where we are needed and we go. Distinguished Leadership is often un-rewarded. In that there are seldom headlines, or media coverage or even notice by your friends or associates. But we continue to provide dedicated help as we can. Our mantra tells us who we are, our deeds show our dedication to that creed.
This past weekend President Carrie Hewitt and President-elect Nicki Swafford were recognized for their dedication to the residents of the Kiwanis Cottage, Boys and Girls Home, Lake Waccamaw. Through many hours-of-service Carrie and Nicki have brought these girls a sense of family they had not ever experienced. They had caring adults who actually treated them as young women with potential and value. They taught them the basics of living they had never known. Additionally, they provided the basics of growing into strong, productive members of their community. Young ladies we would all be proud of. For all of their efforts past and continuing, for their service and selfless dedication to the true meaning of Kiwanis – Carrie and Nicki have been named "Distinguished Kiwanis".
---
JOE CROSTIC was elected as District Governor
---
Aktion Club Initiated

On Tuesday, August 17, our club initiated an Aktion Club to serve the needs of young adults with disabilities in the Topsail Island Area. President Carrie Hewitt (lf) led the initiation ceremony assisted by Diane Cavanagh, who is the Aktion Club Leader (second from rt).
Joe Crostic, Governor-Elect of Carolinas District gave welcoming comments to the newest members of our Aktion Club as well as praised our Club for the effort made to start this Service Leadership Program noting that there are over 500 Aktion Clubs across 13 nations.
---
Governor's Volunteer Awards
Diane was selected for the Governor's Volunteer Service Award that honors the true spirit of volunteerism by recognizing individuals, groups and businesses that make a significant contribution to their community through volunteer service. Diane volunteers with RSVP-AmeriCore Seniors. RSVP-AmeriCore Seniors provides numerous services to the community, including a check-in on the elderly, Reading Buddies in Pender County Schools, and Meals on Wheels. She recently was instrumental in formation of our Aktion Club.
---