Mayor Joann McDermon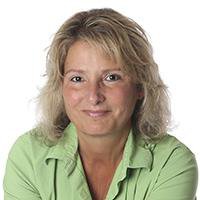 "North Topsail Beach also known as Nature's Tranquil Beauty is living up to its name! We are ready for this year's residents and vacationers!" as Mayor McDermon announced to the Club this past Tuesday.
Mayor McDermon introduced Alice Derian, Town Manager, who joined N. Topsail Beach last October. Manager Derian has had a lot on her plate with overseeing the final stages of the restoration of Town Hall, several FEMA projects, and hiring new staff. Mayor McDermon then asked Manager Derian to say a few words about other challenges the Town faces.
Manager Derian noted that like other communities on and off the island, the Town has been overwhelmed with new residential construction noting that 62 current permits are in place for new homes. She mentioned that the Town has switched to a new software program that has streamlined permitting, and she just recently hired a new Building Inspector who will be replacing Jimmy Canady, long-time building inspector who retired in December.
Mayor McDermon described other activities in Town over the past year including a FEMA dune restoration project that started at the SeaView Fishing Pier and worked north to the St. Regis until it was paused in December so that additional funds could be procured. She noted that the FEMA Cat. G project in Phase 5 (southern 4 miles of town) started yesterday with truck-hauled sand to build up the beach throughout Phase 5. A project that will take two seasons to complete due to the large volume of sand being placed.
She noted that the Town rolled out a paid parking ordinance in 2021 to provide a source of income for beach projects from beach goers who are not residents of N. Topsail Beach but who enjoy the use of town-leased parking lots. However, the Mayor noted that county residents and others still have a free parking option at the Onslow County parking and beach access areas in N. Topsail Beach. Property owners in N. Topsail Beach can register their vehicle at no charge so they can use beach access parking as needed. The success of the paid parking program has helped the Town avoid raising property taxes.
Mayor McDermon described a new Parks & Recreation Committee initiative that Alderman Connie Pletl is leading to promote on-beach and off-beach activities for vacation guests as well as residents.
A capital improvement initiative is under way to replace the South Fire station that initially served as Town Hall back in 1990 when the town was incorporated. Mayor McDermon noted a new LEED-certified fire station is in the initial planning stages to be paid for through our new capital improvement budget.
Mayor McDermon was pleased to announce that the Ocean City section of Town was recently honored for its historic role in North Carolina's civil rights history. A marker will be placed on the state's Civil Rights Trail during an upcoming ceremony at Ocean City. Also, the Ocean City Jazz Festival is back in 2022 after an absence due to COVID.
Mayor McDermon then asked Mike Benson, chair of the new Beach, Inlet, and Sound Advisory Committee to describe the formation and need for this committee. Mike said it had been over 10 years, since the Town last had a beach committee which meant that the Board of Aldermen were the de facto beach committee since then. The new BISAC is modeled after the Beach, Inlet, and Sound Committee in Topsail Beach. The BISAC is composed of a property owner for each of the five shoreline phases in N. Topsail Beach, two aldermen, a coastal engineer, the town manager, and a liaison from Onslow County – currently open. As an advisory committee to the Board of Aldermen the committee will discuss and make recommendations on short-term as well as long-term needs for the shoreline in N. Topsail Beach. With sea level rise a continuing issue for coastal committees, the BISAC will consider short-term mitigation approaches like living shorelines, as well as long-term climate change predictions and the need to develop a strategic plan to mitigate its effects.
Finally, Mayor McDermon invited club members to stop by Town Hall to see how the renovations turned out, along with the improvements to the IT system.